Toyota's new boss speaks with Fortune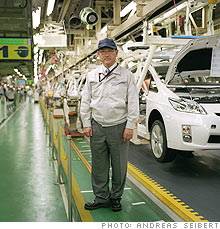 Toyota's new President is starting at the time when the mighty Toyota is having uncharacteristic problems. Toyota's U.S. sales tanked in June, and for the first six months of 2009 Toyota was outsold by Ford in the United States.
Fortune spoke with Akio Toyoda about his vision for Toyota's future.
Even though he has the same last name as five of the 10 previous presidents of Toyota Motor, Akio Toyoda is nothing like his predecessors.

Item: He has spent seven years in the U.S., holds an MBA, and speaks flawless English.

Item: He likes to race cars and just completed a 24-hour endurance competition with three other team members in a Toyota supercar at Germany's famed Nürburgring.

Item: At age 53 he is 14 years younger than the man he is succeeding, and he believes that his relative youth "can make a unique contribution" to the company.

Toyoda takes office two months after Toyota reported the biggest annual loss in its history — $4.4 billion. He thinks that his family's company — at last count, the Toyoda clan owned approximately 2% of the stock — suffered because of a "once-in-a-century crisis" brought on by the global economic slowdown, as well as Toyota's own internal problems, some of them at its U.S. operations. He vows to rein in overcapacity, reorganize operations to strengthen control, and get the company back to basics. He especially wants to reinstill dedication to one of the pillars of Toyota's production system: genchi genbutsu, meaning "go and see for yourself."

Akio Toyoda is a grandson of Toyota's founder, Kiichiro Toyoda (the family changed the spelling of the company's name for greater euphony) and the son of Shoichiro Toyoda, now honorary chairman. After getting a law degree from prestigious Keio University, he went to the U.S., where he received an MBA from Babson College (the alma mater of another auto scion, Edsel Ford II). He joined Toyota in 1984 and returned to the U.S. for a two-year stint as head of NUMMI, the California plant that is a joint venture with General Motors. At ultraconservative Toyota, Toyoda is considered a bit of a radical. In the early part of this decade he headed the development team for an Internet venture, Gazoo.com, which provides information on new and used vehicles and which morphed into a lifestyle cybermall.
If you read the actual interview, he doesn't sound like much of a radical, but it looks like some changes will be in order under his leadership.